Are you looking for an addition to your fitness routine? Never done yoga?
No problem! Make Bikram Yoga Hazel Dell part of your Health and Fitness routine. Classes are beginner friendly, moving through the 26 postures of the Bikram Yoga Series. Classes are 90 minutes. The studio is heated to 105 degrees to assist your body in warming up, becoming more flexible, getting a great workout! Make your body SMILE!

Bikram yoga is beginner friendly and designed so anyone can practice. This yoga can change your life. It is more than the physical. Through the steadying of the mind within the practice, we learn quite a lot about ourselves, our attachments and our avoidances. With practice, we begin to let go of our negative mental patterns and self-imposed limitations.
Each class is guided by a compassionate, certified instructor. You are always encouraged to move through class at your own pace and you may even surprise yourself! The room is heated to assist your body's flexibility, allow you to sweat out toxins, and get a great workout.
Everyone is welcome to do an Introductory month for just $39 with unlimited access to all scheduled classes.

See you in the Hot Room!
-Bikram Yoga Hazel Dell team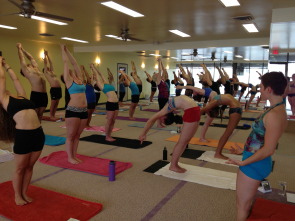 Bikram Yoga Hazel Dell is a beautiful studio I highly recommend and wish to encourage seniors who want to stay active, healthy and living life to the fullest. I can't say enough wonderful things about Mica, the studio's owner. Her enthusiasm brings a friendly, comfortable environment to enjoy. Mica, and all the instructors, are helpful, knowledgeable, certified experts, who give full permission to begin where you are, just doing your best. It's not required to have a perfect body, a perfect spine, or perfect body weight. A positive, can do willingness, a little patience, and a determination is all that's needed to begin YOUR journey. Don't delay…..check the schedule times and start today!!
Gail S.
LOVELY MARLYS AT 76 YEARS YOUNG: PRACTICES 3-4 X'S A WEEK! YOU CAN TOO.